Bundesliga 2020 Live Stream, Watch German Football Online Don't Miss !!DORT vs BAY Dream 11, Match Preview, prediction, Bayern Munich vs Dortmund Watch Online Live Streaming info for worldwide Countries TV channels 26 May Bundesliga football match.
Their may be no fans in attendance but the eyes of the world will be on this game. Since the winter break Dortmund have secured 27 points from ten games to leave themselves within four points of the leaders with just seven games to go.
Both team as expected in the season for fighting to win the title and takes to each other in the final week of the campaign. With seen the phenomenal form of attackers from both sides, we can anticipate the game to be a goal-fest and all the soccer fans are ready to watch a thriller.
26 May 2020 Bundesliga clash of Borussia Dortmund and bayern Munich will be 125th Meeting between this two side so all the cloud are waiting to start this game.
Bayern Munich aka Bayern Munchen will be takes on Borussia Dormund in the Bundesliga Fixtures 2019-20 season on 26 May. Signal-Iduna-Park (Dortmund) Venue will be host the Bayern Munich vs Dortmund German Football Game and All the Viewers will be able to Watch this bundesliga match live from the 6:30pm CEST/5:30pm BST/12:30pm ET time.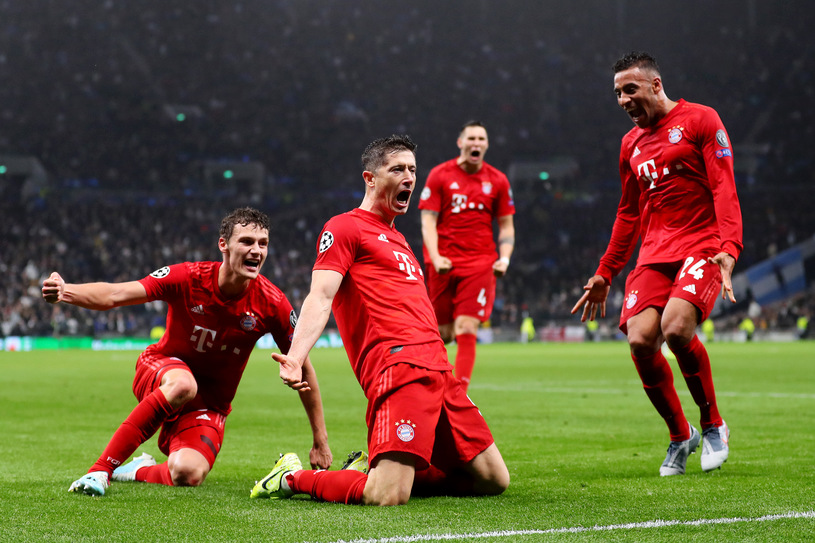 Match Preview
Bayern Munich who registered a 5-2 victory recently at home against Frankfurt so team are full of confidence as Flick's Men unstoppable in the german top flight for the last serveral year. Only seven game weeks remaining now to end the ongoing season and for that Title holders are close to defending yet another one in their favour.
On the other side Borussia Dortmund who also comes with a handy win with 0-2 and also 4-0 against Schalke so they are perform so far. Raphael Guerreiro continued his stupefying form with a goal early in the game, while Jadon Sancho once again showcased his incredible playmaking skills. Curiously though, potent threat Erling Haaland was silent throughout the fixture.

What they said
Michael Zorc (Borussia Dortmund Sporting Director): "When you play without fans it's going to be determined by the values we showed on the pitch in the previous two games. The team has been right on point.
"Obviously, you don't have to be a prophet when you say: If we want to keep competing for the title, we have to win the match. It's as simple as that."
Hansi Flick (Bayern Munich Head Coach): "In January they brought in two reinforcements, two players who bring huge character: Emre Can in defence and Erling Haaland in attack.
"They're among the best teams in Europe. We have to be at our best and be prepared."
Probable Line up
Dortmund: Bürki – Piszczek (c), Hummels, Akanji – Hakimi, Can, Brandt, Guerreiro – Sancho, Haaland, Hazard
Out: Reus (thigh), Schulz (muscular), Zagadou (knee)
Doubtful: Witsel (groin)
Coach: Lucien Favre 
Bayern: Neuer (c) – Pavard, Boateng, Alaba, Davies – Kimmich, Goretzka – Gnabry, Müller, Coman – Lewandowski
Out: Coutinho (ankle), Tolisso (ankle)
Doubtful: Süle (match fitness), Thiago (groin)
Coach: Hansi Flick
Borussia Dortmund vs Bayern Munich: Head-to-head (h2h)
The Bavarians scored four or more goals in three of the past five meetings.
The last ten match-ups had a total of 44 goals between them.
Hans-Dieter Flick's men recorded a 4-0 win the last time these two locked horns.
Three of the prior four fixtures at this stadium had four or more goals as well as goals from both teams.
Der BVB won the latest encounter at this ground, with a 2-0 scoreline.
Bayern Munich vs Borussia Dortmund Who will win Today's Bundesliga Match
For today's Bundesliga 2019-20 season Match of Bayern Munich vs Berlin, After seen the Both Team squad and their recent form Bayern Munich have winning chances are around 61% while Borussia Dortmund 04 have 39% chances for win today's match.

Countrywise TV channels & Broadcaster
Here on this article Live telecast and coverage of Today's Bundesliga 2019-20 season Match of Bayern Munich vs Borussia Dortmund and will be available from the Broadcasting TV channels who get the purchased right officially as well as official website list who provide the 16th May Bayern Munich vs Borussia Dortmund Live streaming throughout the country.
Live in Germany
All the Germany Fans will be able to catch the Bayern Munich vs Dortmund 26 May Bundesliga Match live on DAZN, ZDF or sky Sport Bundesliga channel.
Live in USA
In the U.S. Fox is the main broadcaster for German football, but Bundesliga matches are shown on Fox Sports 1, Fox Sports 2, Fox Soccer Plus, TUDN USA, FOX Deportes, FOX Soccer Match Pass and TUDN USA in English and Spanish Languages commentary.

Live in UK
BT Sport and BT Sport Extra will be shown Bayern Munich vs Borussia Dortmund Bundesliga 2020 Match on television, Bundesliga games can also be streamed through the BT Sport app on iOS and Android devices.
Live in Brazil
All the Brazilians will be catch the Bundesliga Match of Today Munich vs Dortmund live on Fox sports/ ESPN on 16 May 2020 with portuguese languages too.
Live in Australia & New Zealand
beIN sports will be shown the Bundesliga Matches live on their network to All Australia and New Zealand Soccer fans.
Live in India
All the India and their sub-continent countries will be shown the Bundesliga Match action live by visiting the Star sports on the television set and Online Viewers have to go Hotstar.com or install their apps on Mobile to Enjoy the German football.

"Don't choke on your millions"

Ahead of Bayern Munich's home game against Eintracht Frankfurt later, dozens of banners have appeared around #Munich criticising ghost games and greed, questioning sporting integrity and calling for an end to the #Bundesliga season.#fcbayern pic.twitter.com/yllUeQpDnA

— Matt Ford (@matt_4d) May 23, 2020
To Know More then Kindly Follow Full List of Bundesliga Worldwide TV channels 
Bayern Munich vs Borussia Dortmund Free Channels Broadcasting
Countries
Free Channel
Paid Channel
Mobile Stream
United Kingdom
N/A
BT Sports
BT Sports App
United States
N/A
Fox Sports, Fox Deportes
Fox sports app
Germany
ZDF
Sky Sports, DAZN
DAZN app
Italy
N/A
Sky Sport
Sky Sports app
France
N/A
beIN Sports
beIN Sports app
Australia
N/A
beIN Sports
beIN Sports app
Canada
N/A
SportsNet
N/A
Portugal
N/A
Eleven Sports
N/A
Turkey
N/A
S Sport
N/A
Netherlands
N/A
Fox Sports
Fox app
Middle East
N/A
beIN Sports Arabia
beIN Sports app
New Zealand
N/A
beIN Sports
beIN Sports app
Mexico
N/A
Direct TV
ESPN Latin
China
N/A
PPTV
N/A
India
N/A
Star Sports
HotStar
Belgium
N/A
Eleven Sports
N/A
Austria
ZDF
Sky Sports, DAZN
DAZN app
Switzerland
N/A
Sky Sport, Eurosport 2 Xtra
Sky Sport app
Denmark
N/A
Viasat Sport
Viasat app
Sweden
N/A
Viasat Sport
Viasat app
Czech Republic
N/A
DigiTV
DigiTV app
South Africa
N/A
Supersport
Supersport
Sab-Saharan Africa
N/A
StarTimes
StarTimes
Central Asia
N/A
Setanta Sports
Setanta Sports
Brazil
N/A
Fox Sports, ESPN
Fox app
Russia
N/A
Setanta Sports
Setanta Sports
Japan
N/A
NHK
NHK
Start Time channel
Location
Start time
End time
Afghanistan, Kabul
Tue 21:00
Tue 23:00
Albania, Tirana

 *

Tue 18:30
Tue 20:30
Algeria, Algiers
Tue 17:30
Tue 19:30
Angola, Luanda
Tue 17:30
Tue 19:30
Argentina, Buenos Aires
Tue 13:30
Tue 15:30
Argentina, Córdoba, Córdoba
Tue 13:30
Tue 15:30
Armenia, Yerevan
Tue 20:30
Tue 22:30
Australia, Australian Capital Territory, Canberra
Wed 02:30
Wed 04:30
Australia, New South Wales, Sydney
Wed 02:30
Wed 04:30
Australia, Northern Territory, Alice Springs
Wed 02:00
Wed 04:00
Australia, Northern Territory, Darwin
Wed 02:00
Wed 04:00
Australia, Queensland, Brisbane
Wed 02:30
Wed 04:30
Australia, Queensland, Cairns
Wed 02:30
Wed 04:30
Australia, South Australia, Adelaide
Wed 02:00
Wed 04:00
Australia, Tasmania, Hobart
Wed 02:30
Wed 04:30
Australia, Victoria, Melbourne
Wed 02:30
Wed 04:30
Australia, Western Australia, Eucla
Wed 01:15
Wed 03:15
Australia, Western Australia, Perth
Wed 00:30
Wed 02:30
Austria, Vienna, Vienna

 *

Tue 18:30
Tue 20:30
Azerbaijan, Baku
Tue 20:30
Tue 22:30
Bahamas, Nassau

 *

Tue 12:30
Tue 14:30
Bahrain, Manama
Tue 19:30
Tue 21:30
Bangladesh, Dhaka
Tue 22:30
Wed 00:30
Barbados, Bridgetown
Tue 12:30
Tue 14:30
Belarus, Minsk
Tue 19:30
Tue 21:30
Belgium, Brussels, Brussels

 *

Tue 18:30
Tue 20:30
Belize, Belmopan
Tue 10:30
Tue 12:30
Benin, Porto Novo
Tue 17:30
Tue 19:30
Bermuda, Hamilton

 *

Tue 13:30
Tue 15:30
Bhutan, Thimphu
Tue 22:30
Wed 00:30
Bolivia, La Paz
Tue 12:30
Tue 14:30
Bolivia, Sucre
Tue 12:30
Tue 14:30
Bosnia-Herzegovina, Sarajevo

 *

Tue 18:30
Tue 20:30
Botswana, Gaborone
Tue 18:30
Tue 20:30
Brazil, Acre, Rio Branco
Tue 11:30
Tue 13:30
Brazil, Amazonas, Manaus
Tue 12:30
Tue 14:30
Brazil, Ceará, Fortaleza
Tue 13:30
Tue 15:30
Brazil, Distrito Federal, Brasilia
Tue 13:30
Tue 15:30
Brazil, Pará, Belém
Tue 13:30
Tue 15:30
Brazil, Rio de Janeiro, Rio de Janeiro
Tue 13:30
Tue 15:30
Brazil, São Paulo, São Paulo
Tue 13:30
Tue 15:30
British Indian Ocean Territory, Diego Garcia
Tue 22:30
Wed 00:30
Brunei, Bandar Seri Begawan
Wed 00:30
Wed 02:30
Bulgaria, Sofia

 *

Tue 19:30
Tue 21:30
Burkina Faso, Ouagadougou
Tue 16:30
Tue 18:30
Burundi, Bujumbura
Tue 18:30
Tue 20:30
Burundi, Gitega
Tue 18:30
Tue 20:30
Cabo Verde, Praia
Tue 15:30
Tue 17:30
Cambodia, Phnom Penh
Tue 23:30
Wed 01:30
Cameroon, Yaoundé
Tue 17:30
Tue 19:30
Canada, Alberta, Calgary

 *

Tue 10:30
Tue 12:30
Canada, Alberta, Edmonton

 *

Tue 10:30
Tue 12:30
Canada, British Columbia, Vancouver

 *

Tue 09:30
Tue 11:30
Canada, Manitoba, Winnipeg

 *

Tue 11:30
Tue 13:30
Canada, Newfoundland and Labrador, Happy Valley-Goose Bay

 *

Tue 13:30
Tue 15:30
Canada, Newfoundland and Labrador, Mary's Harbour

 *

Tue 14:00
Tue 16:00
Canada, Newfoundland and Labrador, St. John's

 *

Tue 14:00
Tue 16:00
Canada, Northwest Territories, Inuvik

 *

Tue 10:30
Tue 12:30
Canada, Nova Scotia, Halifax

 *

Tue 13:30
Tue 15:30
Canada, Nunavut, Alert

 *

Tue 12:30
Tue 14:30
Canada, Nunavut, Baker Lake

 *

Tue 11:30
Tue 13:30
Canada, Nunavut, Coral Harbour
Tue 11:30
Tue 13:30
Canada, Nunavut, Eureka

 *

Tue 11:30
Tue 13:30
Canada, Nunavut, Grise Fiord

 *

Tue 12:30
Tue 14:30
Canada, Nunavut, Pond Inlet

 *

Tue 12:30
Tue 14:30
Canada, Nunavut, Resolute Bay

 *

Tue 11:30
Tue 13:30
Canada, Ontario, Ottawa

 *

Tue 12:30
Tue 14:30
Canada, Ontario, Toronto

 *

Tue 12:30
Tue 14:30
Canada, Quebec, Chibougamau

 *

Tue 12:30
Tue 14:30
Canada, Quebec, Kuujjuaq

 *

Tue 12:30
Tue 14:30
Canada, Quebec, Montréal

 *

Tue 12:30
Tue 14:30
Canada, Saskatchewan, Regina
Tue 10:30
Tue 12:30
Canada, Yukon, Whitehorse

 *

Tue 09:30
Tue 11:30
Central African Republic, Bangui
Tue 17:30
Tue 19:30
Chad, N'Djamena
Tue 17:30
Tue 19:30
Chile, Easter Island
Tue 10:30
Tue 12:30
Chile, Punta Arenas

 *

Tue 13:30
Tue 15:30
Chile, Santiago
Tue 12:30
Tue 14:30
China, Beijing Municipality, Beijing
Wed 00:30
Wed 02:30
China, Chongqing Municipality, Chongqing
Wed 00:30
Wed 02:30
China, Shanghai Municipality, Shanghai
Wed 00:30
Wed 02:30
China, Tibet, Lhasa
Wed 00:30
Wed 02:30
China, Xinjiang, Ürümqi
Wed 00:30
Wed 02:30
Colombia, Bogota
Tue 11:30
Tue 13:30
Comoros, Moroni
Tue 19:30
Tue 21:30
Congo, Brazzaville
Tue 17:30
Tue 19:30
Congo Dem. Rep., Kinshasa
Tue 17:30
Tue 19:30
Congo Dem. Rep., Lubumbashi
Tue 18:30
Tue 20:30
Cook Islands, Rarotonga
Tue 06:30
Tue 08:30
Costa Rica, San Jose
Tue 10:30
Tue 12:30
Cote d'Ivoire (Ivory Coast), Abidjan
Tue 16:30
Tue 18:30
Cote d'Ivoire (Ivory Coast), Yamoussoukro
Tue 16:30
Tue 18:30
Croatia, Zagreb

 *

Tue 18:30
Tue 20:30
Cuba, Havana

 *

Tue 12:30
Tue 14:30
Cyprus, Nicosia

 *

Tue 19:30
Tue 21:30
Czechia, Prague

 *

Tue 18:30
Tue 20:30
Denmark, Copenhagen

 *

Tue 18:30
Tue 20:30
Djibouti, Djibouti
Tue 19:30
Tue 21:30
Dominican Republic, Santo Domingo
Tue 12:30
Tue 14:30
Ecuador, Galapagos Islands
Tue 10:30
Tue 12:30
Ecuador, Quito
Tue 11:30
Tue 13:30
Egypt, Cairo
Tue 18:30
Tue 20:30
El Salvador, San Salvador
Tue 10:30
Tue 12:30
Equatorial Guinea, Malabo
Tue 17:30
Tue 19:30
Eritrea, Asmara
Tue 19:30
Tue 21:30
Estonia, Tallinn

 *

Tue 19:30
Tue 21:30
eSwatini, Mbabane
Tue 18:30
Tue 20:30
Ethiopia, Addis Ababa
Tue 19:30
Tue 21:30
Falkland Islands, Stanley
Tue 13:30
Tue 15:30
Faroe Islands, Tórshavn

 *

Tue 17:30
Tue 19:30
Fiji, Suva
Wed 04:30
Wed 06:30
Finland, Helsinki

 *

Tue 19:30
Tue 21:30
Finland, Kemi

 *

Tue 19:30
Tue 21:30
Finland, Rovaniemi

 *

Tue 19:30
Tue 21:30
France, Île-de-France, Paris

 *

Tue 18:30
Tue 20:30
French Guiana, Cayenne
Tue 13:30
Tue 15:30
French Polynesia, Tahiti, Papeete
Tue 06:30
Tue 08:30
French Southern Territories, Amsterdam Island
Tue 21:30
Tue 23:30
French Southern Territories, Port-aux-Francais
Tue 21:30
Tue 23:30
Gabon, Libreville
Tue 17:30
Tue 19:30
Gambia, Banjul
Tue 16:30
Tue 18:30
Georgia, Tbilisi
Tue 20:30
Tue 22:30
Germany, Berlin, Berlin

 *

Tue 18:30
Tue 20:30
Germany, Hesse, Frankfurt

 *

Tue 18:30
Tue 20:30
Ghana, Accra
Tue 16:30
Tue 18:30
Gibraltar, Gibraltar

 *

Tue 18:30
Tue 20:30
Greece, Athens

 *

Tue 19:30
Tue 21:30
Greenland, Danmarkshavn
Tue 16:30
Tue 18:30
Greenland, Ittoqqortoormiit

 *

Tue 16:30
Tue 18:30
Greenland, Kangerlussuaq

 *

Tue 14:30
Tue 16:30
Greenland, Nuuk

 *

Tue 14:30
Tue 16:30
Greenland, Qaanaaq

 *

Tue 14:30
Tue 16:30
Greenland, Thule Air Base

 *

Tue 13:30
Tue 15:30
Guadeloupe, Basse-Terre
Tue 12:30
Tue 14:30
Guam, Hagåtña
Wed 02:30
Wed 04:30
Guatemala, Guatemala City
Tue 10:30
Tue 12:30
Guinea, Conakry
Tue 16:30
Tue 18:30
Guinea-Bissau, Bissau
Tue 16:30
Tue 18:30
Guyana, Georgetown
Tue 12:30
Tue 14:30
Haiti, Port-au-Prince

 *

Tue 12:30
Tue 14:30
Honduras, Tegucigalpa
Tue 10:30
Tue 12:30
Hong Kong, Hong Kong
Wed 00:30
Wed 02:30
Hungary, Budapest

 *

Tue 18:30
Tue 20:30
Iceland, Reykjavik
Tue 16:30
Tue 18:30
India, Delhi, New Delhi
Tue 22:00
Wed 00:00
India, Karnataka, Bangalore
Tue 22:00
Wed 00:00
India, Maharashtra, Mumbai
Tue 22:00
Wed 00:00
India, Tamil Nadu, Chennai
Tue 22:00
Wed 00:00
India, West Bengal, Kolkata
Tue 22:00
Wed 00:00
Indonesia, Bali, Denpasar
Wed 00:30
Wed 02:30
Indonesia, Jakarta Special Capital Region, Jakarta
Tue 23:30
Wed 01:30
Indonesia, South Sulawesi, Makassar
Wed 00:30
Wed 02:30
Indonesia, West Kalimantan, Pontianak
Tue 23:30
Wed 01:30
Indonesia, West Papua, Manokwari
Wed 01:30
Wed 03:30
Iran, Tehran

 *

Tue 21:00
Tue 23:00
Iraq, Baghdad
Tue 19:30
Tue 21:30
Ireland, Dublin

 *

Tue 17:30
Tue 19:30
Isle of Man, Douglas

 *

Tue 17:30
Tue 19:30
Israel, Jerusalem

 *

Tue 19:30
Tue 21:30
Italy, Rome

 *

Tue 18:30
Tue 20:30
Jamaica, Kingston
Tue 11:30
Tue 13:30
Japan, Tokyo
Wed 01:30
Wed 03:30
Jordan, Amman

 *

Tue 19:30
Tue 21:30
Kazakhstan, Almaty
Tue 22:30
Wed 00:30
Kazakhstan, Nursultan
Tue 22:30
Wed 00:30
Kazakhstan, Oral
Tue 21:30
Tue 23:30
Kenya, Nairobi
Tue 19:30
Tue 21:30
Kiribati, Christmas Island, Kiritimati
Wed 06:30
Wed 08:30
Kiribati, Tarawa
Wed 04:30
Wed 06:30
Kuwait, Kuwait City
Tue 19:30
Tue 21:30
Kyrgyzstan, Bishkek
Tue 22:30
Wed 00:30
Laos, Vientiane
Tue 23:30
Wed 01:30
Latvia, Riga

 *

Tue 19:30
Tue 21:30
Lebanon, Beirut

 *

Tue 19:30
Tue 21:30
Lesotho, Maseru
Tue 18:30
Tue 20:30
Liberia, Monrovia
Tue 16:30
Tue 18:30
Libya, Tripoli
Tue 18:30
Tue 20:30
Lithuania, Vilnius

 *

Tue 19:30
Tue 21:30
Luxembourg, Luxembourg

 *

Tue 18:30
Tue 20:30
Madagascar, Antananarivo
Tue 19:30
Tue 21:30
Malawi, Lilongwe
Tue 18:30
Tue 20:30
Malaysia, Kuala Lumpur, Kuala Lumpur
Wed 00:30
Wed 02:30
Maldives, Male
Tue 21:30
Tue 23:30
Mali, Bamako
Tue 16:30
Tue 18:30
Mali, Timbuktu
Tue 16:30
Tue 18:30
Malta, Valletta

 *

Tue 18:30
Tue 20:30
Marshall Islands, Majuro
Wed 04:30
Wed 06:30
Mauritania, Nouakchott
Tue 16:30
Tue 18:30
Mauritius, Port Louis
Tue 20:30
Tue 22:30
Mexico, Ciudad de México, Mexico City

 *

Tue 11:30
Tue 13:30
Mexico, Quintana Roo, Cancún
Tue 11:30
Tue 13:30
Mexico, Sonora, Hermosillo
Tue 09:30
Tue 11:30
Micronesia, Pohnpei, Palikir
Wed 03:30
Wed 05:30
Moldova, Chișinău

 *

Tue 19:30
Tue 21:30
Monaco, Monaco

 *

Tue 18:30
Tue 20:30
Mongolia, Hovd
Tue 23:30
Wed 01:30
Mongolia, Ulaanbaatar
Wed 00:30
Wed 02:30
Montenegro, Podgorica

 *

Tue 18:30
Tue 20:30
Morocco, Casablanca
Tue 16:30
Tue 18:30
Morocco, Rabat
Tue 16:30
Tue 18:30
Mozambique, Maputo
Tue 18:30
Tue 20:30
Myanmar, Naypyidaw
Tue 23:00
Wed 01:00
Myanmar, Yangon
Tue 23:00
Wed 01:00
Namibia, Windhoek
Tue 18:30
Tue 20:30
Nauru, Yaren
Wed 04:30
Wed 06:30
Nepal, Kathmandu
Tue 22:15
Wed 00:15
Netherlands, Amsterdam

 *

Tue 18:30
Tue 20:30
New Zealand, Auckland
Wed 04:30
Wed 06:30
New Zealand, Chatham Islands
Wed 05:15
Wed 07:15
New Zealand, Wellington
Wed 04:30
Wed 06:30
Nicaragua, Managua
Tue 10:30
Tue 12:30
Niger, Niamey
Tue 17:30
Tue 19:30
Nigeria, Abuja
Tue 17:30
Tue 19:30
Nigeria, Lagos
Tue 17:30
Tue 19:30
Niue, Alofi
Tue 05:30
Tue 07:30
North Korea, Pyongyang
Wed 01:30
Wed 03:30
North Macedonia, Skopje

 *

Tue 18:30
Tue 20:30
Norway, Svalbard, Longyearbyen

 *

Tue 18:30
Tue 20:30
Norway, Oslo

 *

Tue 18:30
Tue 20:30
Norway, Tromsø

 *

Tue 18:30
Tue 20:30
Oman, Muscat
Tue 20:30
Tue 22:30
Pakistan, Islamabad
Tue 21:30
Tue 23:30
Pakistan, Sindh, Karachi
Tue 21:30
Tue 23:30
Pakistan, Lahore
Tue 21:30
Tue 23:30
Palau, Ngerulmud
Wed 01:30
Wed 03:30
Panama, Panama
Tue 11:30
Tue 13:30
Papua New Guinea, Port Moresby
Wed 02:30
Wed 04:30
Paraguay, Asuncion
Tue 12:30
Tue 14:30
Peru, Lima, Lima
Tue 11:30
Tue 13:30
Philippines, Manila
Wed 00:30
Wed 02:30
Pitcairn Islands, Adamstown
Tue 08:30
Tue 10:30
Poland, Warsaw

 *

Tue 18:30
Tue 20:30
Portugal, Azores, Ponta Delgada

 *

Tue 16:30
Tue 18:30
Portugal, Lisbon, Lisbon

 *

Tue 17:30
Tue 19:30
Puerto Rico, San Juan
Tue 12:30
Tue 14:30
Qatar, Doha
Tue 19:30
Tue 21:30
Réunion (French), Saint-Denis
Tue 20:30
Tue 22:30
Romania, Bucharest

 *

Tue 19:30
Tue 21:30
Russia, Belushya Guba
Tue 19:30
Tue 21:30
Russia, Anadyr
Wed 04:30
Wed 06:30
Russia, Pevek
Wed 04:30
Wed 06:30
Russia, Irkutsk
Wed 00:30
Wed 02:30
Russia, Kaliningrad
Tue 18:30
Tue 20:30
Russia, Petropavlovsk-Kamchatsky
Wed 04:30
Wed 06:30
Russia, Komsomolsk-on-Amur
Wed 02:30
Wed 04:30
Russia, Khatanga
Tue 23:30
Wed 01:30
Russia, Krasnoyarsk
Tue 23:30
Wed 01:30
Russia, Norilsk
Tue 23:30
Wed 01:30
Russia, Magadan
Wed 03:30
Wed 05:30
Russia, Moscow
Tue 19:30
Tue 21:30
Russia, Novosibirsk
Tue 23:30
Wed 01:30
Russia, Omsk
Tue 22:30
Wed 00:30
Russia, Vladivostok
Wed 02:30
Wed 04:30
Russia, Srednekolymsk
Wed 03:30
Wed 05:30
Russia, Tiksi
Wed 01:30
Wed 03:30
Russia, Verkhoyansk
Wed 02:30
Wed 04:30
Russia, Yakutsk
Wed 01:30
Wed 03:30
Russia, Yuzhno-Sakhalinsk
Wed 03:30
Wed 05:30
Russia, Samara
Tue 20:30
Tue 22:30
Russia, Yekaterinburg
Tue 21:30
Tue 23:30
Russia, Izhevsk
Tue 20:30
Tue 22:30
Russia, Chita
Wed 01:30
Wed 03:30
Rwanda, Kigali
Tue 18:30
Tue 20:30
Saint Helena, Jamestown
Tue 16:30
Tue 18:30
Samoa, Apia
Wed 05:30
Wed 07:30
Sao Tome and Principe, São Tomé
Tue 16:30
Tue 18:30
Saudi Arabia, Riyadh
Tue 19:30
Tue 21:30
Senegal, Dakar
Tue 16:30
Tue 18:30
Serbia, Belgrade

 *

Tue 18:30
Tue 20:30
Seychelles, Victoria
Tue 20:30
Tue 22:30
Sierra Leone, Freetown
Tue 16:30
Tue 18:30
Singapore, Singapore
Wed 00:30
Wed 02:30
Slovakia, Bratislava

 *

Tue 18:30
Tue 20:30
Slovenia, Ljubljana

 *

Tue 18:30
Tue 20:30
Solomon Islands, Honiara
Wed 03:30
Wed 05:30
Somalia, Mogadishu
Tue 19:30
Tue 21:30
South Africa, Cape Town
Tue 18:30
Tue 20:30
South Africa, Johannesburg
Tue 18:30
Tue 20:30
South Africa, Marion Island (Prince Edward Islands)
Tue 19:30
Tue 21:30
South Africa, Pretoria
Tue 18:30
Tue 20:30
South Georgia/Sandwich Is., King Edward Point
Tue 14:30
Tue 16:30
South Korea, Seoul
Wed 01:30
Wed 03:30
South Sudan, Juba
Tue 19:30
Tue 21:30
Spain, Barcelona, Barcelona

 *

Tue 18:30
Tue 20:30
Spain, Madrid

 *

Tue 18:30
Tue 20:30
Sri Lanka, Sri Jayawardenepura Kotte
Tue 22:00
Wed 00:00
Sudan, Khartoum
Tue 18:30
Tue 20:30
Suriname, Paramaribo
Tue 13:30
Tue 15:30
Sweden, Stockholm

 *

Tue 18:30
Tue 20:30
Switzerland, Bern, Bern

 *

Tue 18:30
Tue 20:30
Switzerland, Zurich, Zürich

 *

Tue 18:30
Tue 20:30
Syria, Damascus

 *

Tue 19:30
Tue 21:30
Taiwan, Taipei
Wed 00:30
Wed 02:30
Tajikistan, Dushanbe
Tue 21:30
Tue 23:30
Tanzania, Dar es Salaam
Tue 19:30
Tue 21:30
Tanzania, Dodoma
Tue 19:30
Tue 21:30
Thailand, Bangkok
Tue 23:30
Wed 01:30
Timor-Leste, Dili
Wed 01:30
Wed 03:30
Togo, Lomé
Tue 16:30
Tue 18:30
Tokelau, Fakaofo
Wed 05:30
Wed 07:30
Tonga, Nukualofa
Wed 05:30
Wed 07:30
Trinidad and Tobago, Port of Spain
Tue 12:30
Tue 14:30
Tunisia, Tunis
Tue 17:30
Tue 19:30
Turkey, Ankara
Tue 19:30
Tue 21:30
Turkey, Istanbul
Tue 19:30
Tue 21:30
Turkmenistan, Ashgabat
Tue 21:30
Tue 23:30
Tuvalu, Funafuti
Wed 04:30
Wed 06:30
Uganda, Kampala
Tue 19:30
Tue 21:30
Ukraine, Dnipro

 *

Tue 19:30
Tue 21:30
Ukraine, Kyiv

 *

Tue 19:30
Tue 21:30
United Arab Emirates, Abu Dhabi, Abu Dhabi
Tue 20:30
Tue 22:30
United Arab Emirates, Dubai, Dubai
Tue 20:30
Tue 22:30
United Kingdom, England, London

 *

Tue 17:30
Tue 19:30
United Kingdom, Scotland, Edinburgh

 *

Tue 17:30
Tue 19:30
United Kingdom, Wales, Cardiff

 *

Tue 17:30
Tue 19:30
Uruguay, Montevideo
Tue 13:30
Tue 15:30
US Minor Outlying Islands, Baker Island
Tue 04:30
Tue 06:30
US Minor Outlying Islands, Midway
Tue 05:30
Tue 07:30
US Minor Outlying Islands, Wake Island
Wed 04:30
Wed 06:30
USA, Alaska, Adak

 *

Tue 07:30
Tue 09:30
USA, Alaska, Anchorage

 *

Tue 08:30
Tue 10:30
USA, Alaska, Fairbanks

 *

Tue 08:30
Tue 10:30
USA, Alaska, Juneau

 *

Tue 08:30
Tue 10:30
USA, Alaska, Unalaska

 *

Tue 08:30
Tue 10:30
USA, Arizona, Phoenix
Tue 09:30
Tue 11:30
USA, California, Los Angeles

 *

Tue 09:30
Tue 11:30
USA, California, San Francisco

 *

Tue 09:30
Tue 11:30
USA, Colorado, Denver

 *

Tue 10:30
Tue 12:30
USA, District of Columbia, Washington DC

 *

Tue 12:30
Tue 14:30
USA, Florida, Miami

 *

Tue 12:30
Tue 14:30
USA, Georgia, Atlanta

 *

Tue 12:30
Tue 14:30
USA, Hawaii, Honolulu
Tue 06:30
Tue 08:30
USA, Illinois, Chicago

 *

Tue 11:30
Tue 13:30
USA, Indiana, Indianapolis

 *

Tue 12:30
Tue 14:30
USA, Louisiana, New Orleans

 *

Tue 11:30
Tue 13:30
USA, Massachusetts, Boston

 *

Tue 12:30
Tue 14:30
USA, Michigan, Detroit

 *

Tue 12:30
Tue 14:30
USA, Minnesota, Minneapolis

 *

Tue 11:30
Tue 13:30
USA, Missouri, Kansas City

 *

Tue 11:30
Tue 13:30
USA, Nevada, Las Vegas

 *

Tue 09:30
Tue 11:30
USA, New York, New York

 *

Tue 12:30
Tue 14:30
USA, Oklahoma, Oklahoma City

 *

Tue 11:30
Tue 13:30
USA, Pennsylvania, Philadelphia

 *

Tue 12:30
Tue 14:30
USA, Texas, Dallas

 *

Tue 11:30
Tue 13:30
USA, Texas, Houston

 *

Tue 11:30
Tue 13:30
USA, Utah, Salt Lake City

 *

Tue 10:30
Tue 12:30
USA, Washington, Seattle

 *

Tue 09:30
Tue 11:30
Uzbekistan, Tashkent
Tue 21:30
Tue 23:30
Vanuatu, Port Vila
Wed 03:30
Wed 05:30
Vatican City State, Vatican City

 *

Tue 18:30
Tue 20:30
Venezuela, Caracas
Tue 12:30
Tue 14:30
Vietnam, Hanoi
Tue 23:30
Wed 01:30
Western Sahara, El Aaiún
Tue 16:30
Tue 18:30
Yemen, Sana
Tue 19:30
Tue 21:30
Zambia, Lusaka
Tue 18:30
Tue 20:30
Zimbabwe, Harare
Tue 18:30
Tue 20:30