New York Giants Schedule 2023, Upcoming NFL Matches Fixtures, Dates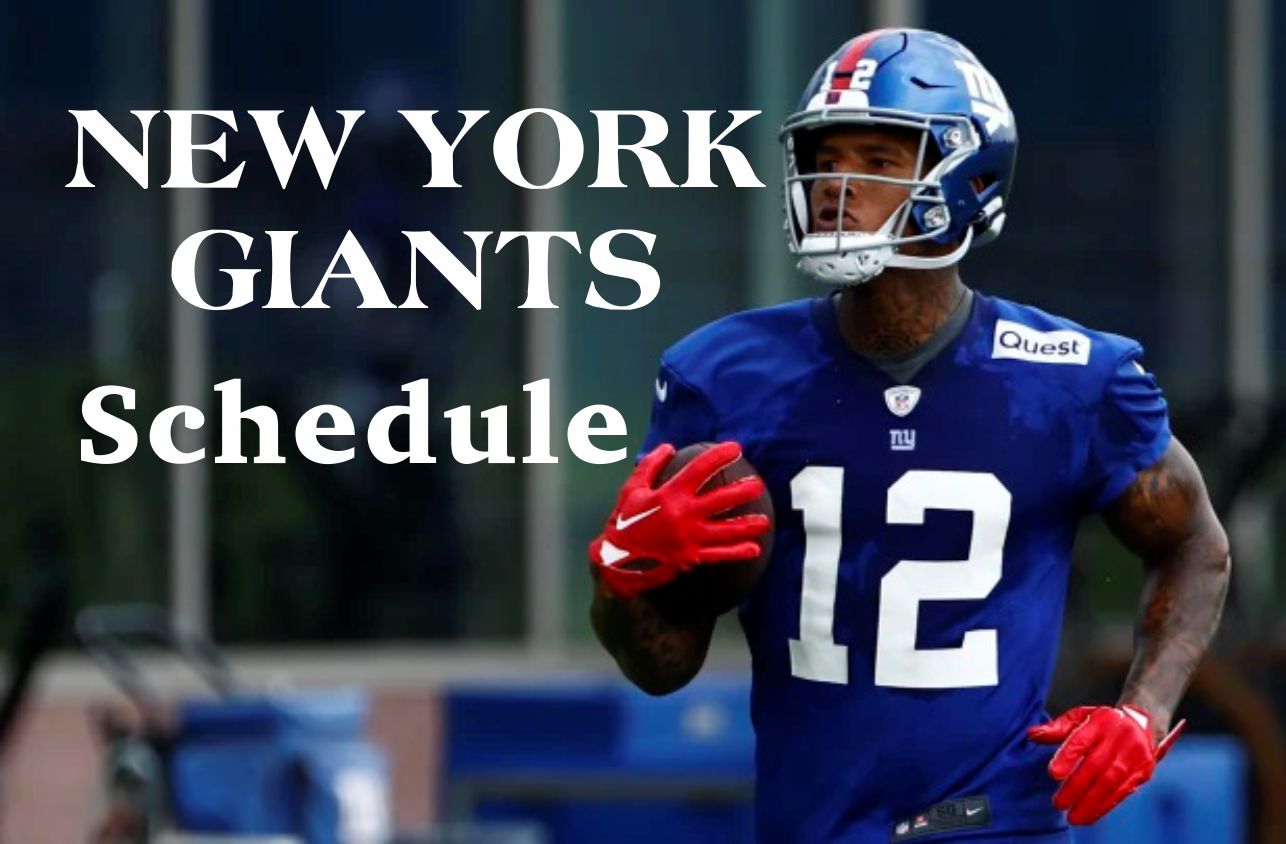 Stay updated on the latest New York Giants Schedule 2023 and upcoming NFL matches with Shiva Sports News. Never miss a game again with our detailed fixtures and dates.
The anticipation is building for the upcoming 2023 NFL season, and fans of the New York Giants are eager to see their favorite team in action. The full schedule for the season has been released, and it promises an exciting lineup of games and matchups.
In Week 1, the Giants will kick off the season with a home game against a tough division rival. It's always an intense battle when these two teams meet, so expect fireworks right from the start. Week 4 brings another exciting matchup as the Giants hit the road to take on a perennial playoff contender.
New York Giants 2023-24 NFL Season Complete Schedule
| WEEK | DATE | OPPONENT | TIME (ET) | TV/RESULT |
| --- | --- | --- | --- | --- |
| 1 | Sun, Sep 10 | vs. Cowboys | 8:20 PM | L 40-0 |
| 2 | Sun, Sep 17 | @ Cardinals | 4:05 PM | W 31-28 |
| 3 | Thu, Sep 21 | @ 49ers | 8:15 PM | L 30-12 |
| 4 | Mon, Oct 2 | vs. Seahawks | 8:15 PM | ESPN |
| 5 | Sun, Oct 8 | @ Dolphins | 1:00 PM | FOX |
| 6 | Sun, Oct 15 | @ Bills | 8:20 PM | NBC |
| 7 | Sun, Oct 22 | vs. Commanders | 1:00 PM | CBS |
| 8 | Sun, Oct 29 | vs. Jets | 1:00 PM | CBS |
| 9 | Sun, Nov 5 | @ Raiders | 4:25 PM | FOX |
| 10 | Sun, Nov 12 | @ Cowboys | 4:25 PM | FOX |
| 11 | Sun, Nov 19 | @ Commanders | 1:00 PM | FOX |
| 12 | Sun, Nov 26 | vs. Patriots | 1:00 PM | FOX |
| 13 | Sun, Dec. 3 | BYE | BYE | BYE |
| 14 | Mon, Dec 11 | vs. Packers | 8:15 PM | ABC |
| 15 | Sun, Dec 17 | @ Saints | 1:00 PM | FOX |
| 16 | Mon, Dec 25 | @ Eagles | 4:30 PM | FOX |
| 17 | Sun, Dec 31 | vs. Rams | 1:00 PM | FOX |
| 18 | Sun, Jan 7 | vs. Eagles | TBD | TBD |
Introduction to the New York Giants
Welcome to the world of Big Blue! In the city that never sleeps, there's a team that never stops fighting. We're talking about none other than the iconic New York Giants. With a storied history and passionate fan base, this team has etched its name in NFL glory.

But let's not dwell on what has already transpired; instead, let's focus on what lies ahead for the G-Men. The 2023 season is just around the corner, and anticipation is reaching fever pitch among die-hard Giants fans. From epic battles against division rivals to thrilling matchups with perennial powerhouses, this schedule promises excitement from start to finish.

So buckle up as we take you through all the highlights of the New York Giants' upcoming season. Get ready for heart-stopping plays, nail-biting finishes, and unforgettable moments that will make your Sundays truly memorable. Let's dive right into it!
What channel shows the most Giants games?
FOX will show 9 Giants games. NBC, CBS, Prime Video, and ABC will show 2 games each. You can watch preseason games on NFL Network or local channels.
How to Get New York Giants Tickets?
Tickets for New York Giants games can be purchased through the team's official website, the NFL Ticket Exchange, or on websites like StubHub and SeatGeek.
Keeping an eye on the Giants on social media is a good idea, and using safe payment methods when purchasing tickets is a good idea.
A Look Back at the 2022 Season
The 2022 season was a rollercoaster ride for the New York Giants. It was filled with highs and lows, moments of triumph and disappointment. The team started off strong, showing promise and potential. With some key victories early on, fans were hopeful that this could be a breakout year.

However, as the season progressed, injuries began to take their toll on the Giants. Star players found themselves sidelined, forcing backups to step up and fill their shoes. While there were certainly bright spots throughout the season, it seemed like every time they took one step forward, they would take two steps back.

But even in the face of adversity, the team never gave up. They continued to fight until the very end, showcasing determination and resilience. Despite falling short of their ultimate goals, there were still moments of greatness that should not be overlooked.

Quarterback Daniel Jones showed flashes of brilliance with his arm strength and mobility. Wide receiver Kenny Golladay made some incredible catches that left fans in awe. And let's not forget about running back Saquon Barkley who displayed his explosive speed and agility game after game.

Yes, there were tough losses along the way that left fans frustrated and questioning what went wrong. But it's important to remember that sports are unpredictable – anything can happen on any given day.
Must-Watch Games and Matchups for Giants Fans
As the 2023 NFL season approaches, New York Giants fans are eagerly anticipating the exciting matchups that await their beloved team. With a roster filled with talent and potential, there are several games on the schedule that should not be missed.

One highly anticipated matchup is when the Giants take on their division rival, the Dallas Cowboys. This longstanding rivalry never fails to deliver an intense battle between two storied franchises. The atmosphere will be electric as these teams go head-to-head in a clash of NFC East titans.

Another game to watch out for is when the Giants face off against the reigning Super Bowl champions, the Kansas City Chiefs. This game will showcase some of the best talent in the league as Patrick Mahomes leads his high-powered offense against a stout Giants defense. It's sure to be an epic showdown that could have playoff implications down the line.

In addition to these marquee matchups, there are other games on the schedule that promise excitement and intrigue. The annual meeting with their cross-town rivals, the New York Jets, always adds an extra level of intensity to both teams' performances.

Furthermore, any game against a team led by Tom Brady is bound to generate buzz among football enthusiasts. When Brady and his Tampa Bay Buccaneers come to town, it's guaranteed to be a thrilling contest between two powerhouse squads.

With such compelling matchups peppered throughout their schedule, there's no doubt that Giants fans will have plenty of must-see games this season. From fierce divisional battles to clashes against top contenders from other divisions; every week holds new possibilities for victory or defeat.