Heisman Trophy which is awarded every year to outstanding player in the NCAA football. Most recent 2019 Heisman Trophy winners is Senior Quarter back from LSU Joe Burrow.
Since the First Edition of 1935 so far total 77 Heisman trophy to be awarded to various team. The trophy which is one of the most sought-after awards in American collegiate athletics is named after John W. Heisman who was known as an athlete and inventive football genius.
Heisman Trophy given for Outstanding performance which best exhibits the pursuit of excellence with integrity. Winners epitomize great ability combined with diligence, perseverance, and hard work.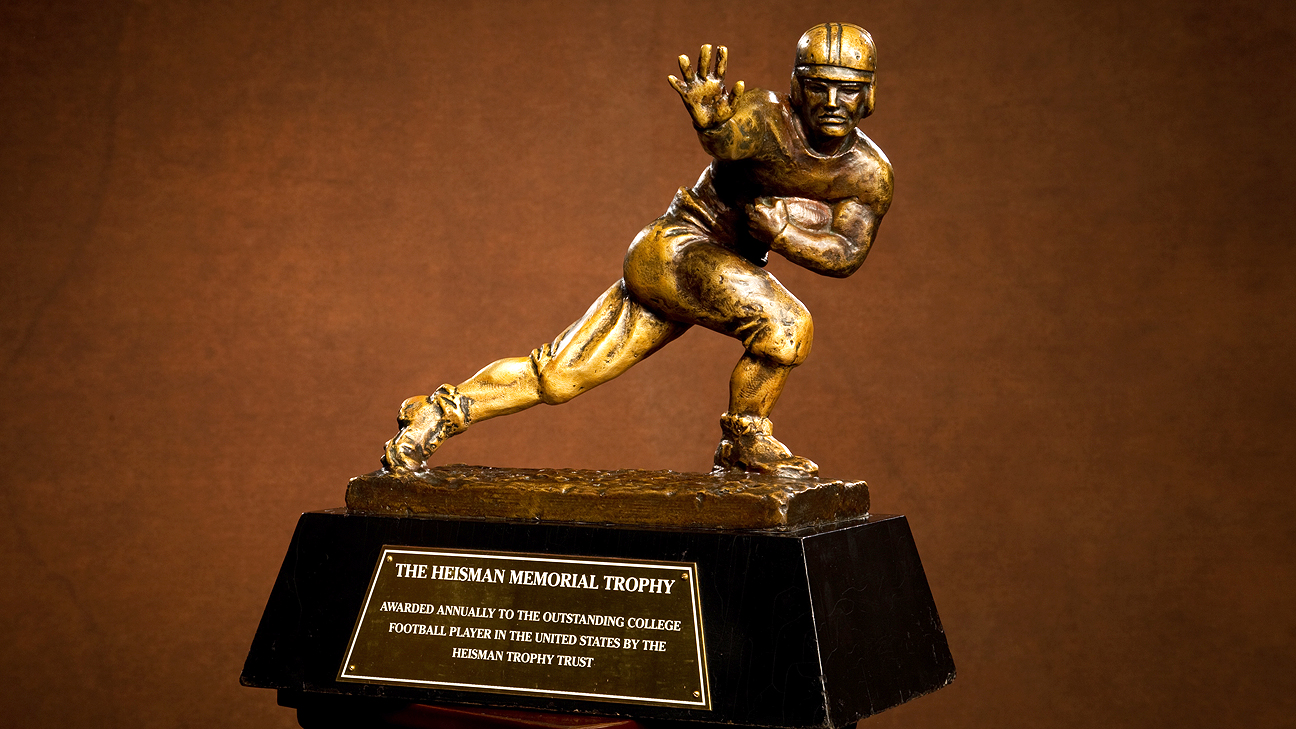 Heisman Trophy Winners
| | | | | |
| --- | --- | --- | --- | --- |
| Year | Name | School | Position | Class |
| 2019 | Joe Burrow | LSU | Quarterback | Senior |
| 2018 | Kyler Murray | Oklahoma | Quarterback | Junior |
| 2017 | Baker Mayfield | Oklahoma | Quarterback | Senior |
| 2016 | Lamar Jackson | Louisville | Quarterback | Sophomore |
| 2015 | Derrick Henry | Alabama Crimson Tide | Running back | Junior |
| 2014 | Marcus Mariota | Oregon | Quarterback | Junior |
| 2013 | Jameis Winston | Florida State | Quarterback | Frsh |
| 2012 | Johnny Manziel | Texas A&M | Quarterback | Frsh |
| 2011 | Robert Griffin III | Baylor University | Quarterback | Jr. |
| 2010 | Cam Newton | Auburn | Quarterback | Jr. |
| 2009 | Mark Ingram | Alabama | Running back | Sop |
| 2008 | Sam Bradford | Oklahoma | Quarterback | Sop |
| 2007 | Tim Tebow | Florida | Quarterback | Sop |
| 2006 | Troy Smith | Ohio State | Quarterback | Sr. |
| 2004 | Matt Leinart | USC | Quarterback | Jr. |
| 2003 | Jason White | Oklahoma | Quarterback | Jr. |
| 2002 | Carson Palmer | USC | Quarterback | Sr. |
| 2001 | Eric Crouch | Nebraska | Quarterback | Sr. |
| 2000 | Chris Weinke | Florida State | Quarterback | Sr. |
| 1999 | Ron Dayne | Wisconsin | Running back | Sr. |
| 1998 | Ricky Williams | Texas | Running back | Sr. |
| 1997 | Charles Woodson | Michigan | Cornerback/Punt returner | Jr. |
| 1996 | Danny Wuerffel | Florida | Quarterback | Sr. |
| 1995 | Eddie George | Ohio State | Running back | Sr. |
| 1994 | Rashaan Salaam | Colorado | Running back | Jr. |
| 1993 | Charlie Ward | Florida State | Quarterback | Sr. |
| 1992 | Gino Torretta | Miami (Fla) | Quarterback | Sr. |
| 1991 | Desmond Howard | Michigan | Wide receiver | Jr. |
| 1990 | Ty Detmer | Brigham Young | Quarterback | Jr. |
| 1989 | Andre Ware | Houston | Quarterback | Jr. |
| 1988 | Barry Sanders | Oklahoma State | Running back | Jr. |
| 1987 | Tim Brown | Notre Dame | Wide receiver | Sr. |
| 1986 | Vinny Testaverde | Miami (Fla) | Quarterback | Sr. |
| 1985 | Bo Jackson | Auburn | Running back | Sr. |
| 1984 | Doug Flutie | Boston College | Quarterback | Sr. |
| 1983 | Mike Rozier | Nebraska | Running back | Sr. |
| 1982 | Herschel Walker | Georgia | Running back | Jr. |
| 1981 | Marcus Allen | USC | Running back | Sr. |
| 1980 | George Rogers | South Carolina | Running back | Sr. |
| 1979 | Charles White | USC | Running back | Sr. |
| 1978 | Billy Sims | Oklahoma | Running back | Jr. |
| 1977 | Earl Campbell | Texas | Running back | Sr. |
| 1976 | Tony Dorsett | Pittsburgh | Running back | Sr. |
| 1975 | Archie Griffin | Ohio State | Running back | Sr. |
| 1974 | Archie Griffin | Ohio State | Running back | Jr. |
| 1973 | John Cappelletti | Penn State | Running back | Sr. |
| 1972 | Johnny Rodgers | Nebraska | Running back | Sr. |
| 1971 | Pat Sullivan | Auburn | Quarterback | Sr. |
| 1970 | Jim Plunkett | Stanford | Quarterback | Sr. |
| 1969 | Steve Owens | Oklahoma | Fullback | Sr. |
| 1968 | O.J. Simpson | USC | Running back | Sr. |
| 1967 | Gary Beban | UCLA | Quarterback | Sr. |
| 1966 | Steve Spurrier | Florida | Quarterback | Sr. |
| 1965 | Mike Garrett | USC | Running back | Sr. |
| 1964 | John Huarte | Notre Dame | Quarterback | Sr. |
| 1963 | Roger Staubach | Navy | Quarterback | Jr. |
| 1962 | Terry Baker | Oregon State | Quarterback | Sr. |
| 1961 | Ernie Davis | Syracuse | Running back | Sr. |
| 1960 | Joe Bellino | Navy | Running back | Sr. |
| 1959 | Billy Cannon | Louisiana State | Running back | Sr. |
| 1958 | Pete Dawkins | Army | Running back | Sr. |
| 1957 | John David Crow | Texas A&M | Running back | Sr. |
| 1956 | Paul Hornung | Notre Dame | Quarterback | Sr. |
| 1955 | Howard Cassady | Ohio State | Running back | Sr. |
| 1954 | Alan Ameche | Wisconsin | Fullback | Sr. |
| 1953 | John Lattner | Notre Dame | Running back | Sr. |
| 1952 | Billy Vessels | Oklahoma | Running back | Sr. |
| 1951 | Dick Kazmaier | Princeton | Running back | Sr. |
| 1950 | Vic Janowicz | Ohio State | Running back | Jr. |
| 1949 | Leon Hart | Notre Dame | END | Sr. |
| 1948 | Doak Walker | Southern Methodist | Running back | Jr. |
| 1947 | John Lujack | Notre Dame | Quarterback | Sr. |
| 1946 | Glenn Davis | Army | Running back | Sr. |
| 1945 | Doc Blanchard | Army | Fullback | Jr. |
| 1944 | Les Horvath | Ohio State | Quarterback | Sr. |
| 1943 | Angelo Bertelli | Notre Dame | Quarterback | Sr. |
| 1942 | Frank Sinkwich | Georgia | Running back | Sr. |
| 1941 | Bruce Smith | Minnesota | Running back | Sr. |
| 1940 | Tom Harmon | Michigan | Running back | Sr. |
| 1939 | Nile Kinnick | Iowa | Running back | Sr. |
| 1938 | Davey O'Brien | TCU | Quarterback | Sr. |
| 1937 | Clint Frank | Yale | Quarterback | Sr. |
| 1936 | Larry Kelley | Yale | END | Sr. |
| 1935 | Jay Berwanger | Chicago | Running back | Sr. |