Today in the Double Header on Sunday 14 April 2019 First Match Kolkata Knight Riders takes on Chennai Super Kings at Eden Garden, Kolkata. Currently new trend going on in IPL as won toss and bat second as last ten Matches we seen that whichever team is bat second they won the game and today also did the samething.
After winning the toss by the captain cool Dhoni they invite the Kolkata Knight Riders to bat first here on their home ground. In the 20 over quota KKR only manage to score 161/8. Chris lynn highest run scorer for the Kolkata as they scored 82 runs in just 51 balls by hitting 7 fours and 6 sixes with a healthy strike rate of 160.78. Russell only manage to score of 10 in 4 balls with 1 fours and one sixes and out on the bowling tahir. From CSK Imran Tahir stand out performance with the bowl by picking four wickets by giving just 27 runs in their four overs spell.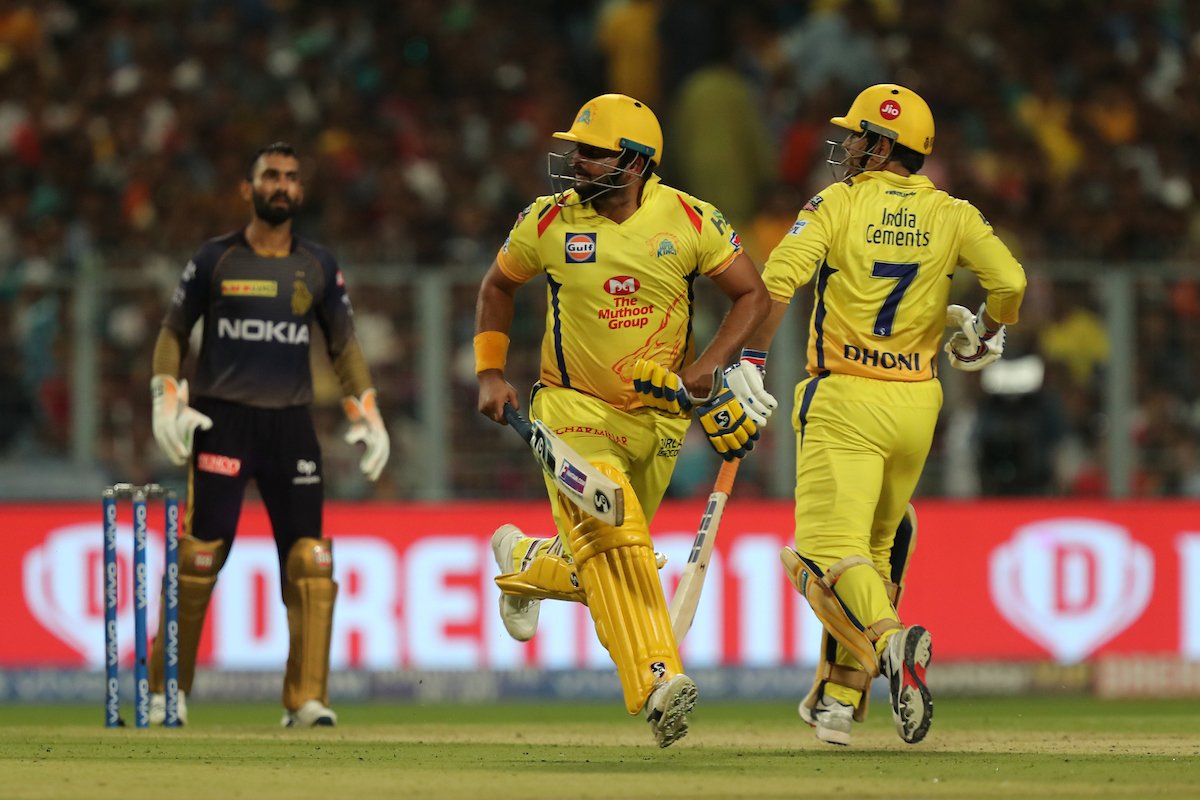 In reply of 162 target, Shane watson loss his wickets in the first few overs but Raina who did the job for the CSK by scoring unbeaten 58 in just 42 balls. In the End Jadeja scored quickfire 31 runs in 17 balls and guided CSK to five wickets victory over to KKR.
Match Reports
Kolkata Knight Riders Innings
Powerplay 1: Overs 0.1 – 6.0 (Mandatory – 49 runs, 1 wicket)
Kolkata Knight Riders: 50 runs in 6.2 overs (38 balls), Extras 4
CA Lynn: 50 off 36 balls (7 x 4, 2 x 6)
Strategic Timeout: Kolkata Knight Riders – 71/1 in 9.0 overs (CA Lynn 50, N Rana 14)
Kolkata Knight Riders: 100 runs in 13.1 overs (79 balls), Extras 7
Strategic Timeout: Kolkata Knight Riders – 142/5 in 16.0 overs (KD Karthik 15, Shubman Gill 4)
Kolkata Knight Riders: 150 runs in 17.1 overs (103 balls), Extras 8
Innings Break: Kolkata Knight Riders – 161/8 in 20.0 overs (PP Chawla 4)
Chennai Super Kings Innnings
Powerplay 1: Overs 0.1 – 6.0 (Mandatory – 44 runs, 2 wickets)
Over 3.4: Review by Chennai Super Kings (Batting), Umpire – RJ Tucker, Batsman – SK Raina (Upheld)
Chennai Super Kings: 50 runs in 7.3 overs (45 balls), Extras 0
Strategic Timeout: Chennai Super Kings – 61/2 in 9.0 overs (SK Raina 25, AT Rayudu 5)
Chennai Super Kings: 100 runs in 13.2 overs (80 balls), Extras 1
Strategic Timeout: Chennai Super Kings – 109/4 in 14.0 overs (SK Raina 40, MS Dhoni 13)
Over 15.4: Review by Chennai Super Kings (Batting), Umpire – RJ Tucker, Batsman – MS Dhoni (Struck down)
SK Raina: 50 off 36 balls (6 x 4, 1 x 6)
Chennai Super Kings: 150 runs in 18.4 overs (112 balls), Extras 2