Check out below Cricket World cup history Player who can scored highest individual run till 2015 world cup.
If we look at the below list then New Zealand's Martin Guptill Who are top on the List by scoring 237 runs in 163 balls by hitting 24 fours and 11 Sixes against Windies.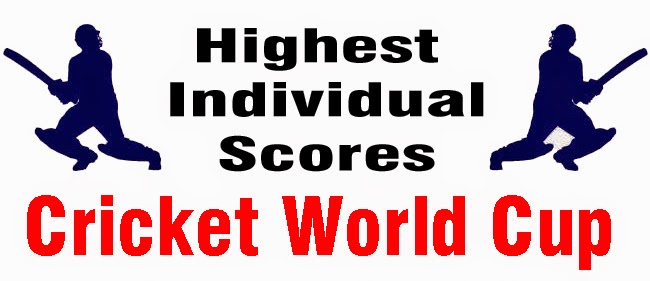 Second Best Highest Individual scorer are Chris Gayle of Windies who making 215 runs in 147 Balls against Zimbabwe by scoring 16 Sixes and 10 boundaries.
Apart of it In the Top 10 List of Highest Individual scorer India's Sourav Ganguly, Kapil Dev and Virender Shehwag also in the list.
| POS | PLAYER | CURRENT TEAM | RUNS | BALLS | 4s | 6s | SR | VS |
| --- | --- | --- | --- | --- | --- | --- | --- | --- |
| 1 | Martin Guptill | New Zealand | 237 | 163 | 24 | 11 | 145.40 | Windies |
| 2 | Chris Gayle | Windies | 215 | 147 | 10 | 16 | 146.26 | Zimbabwe |
| 3 | Gary Kirsten | South Africa | 188 | 159 | 13 | 4 | 118.24 | United Arab Emirates |
| 4 | Sourav Ganguly | India | 183 | 158 | 17 | 7 | 115.82 | Sri Lanka |
| 5 | Sir Viv Richards | Windies | 181 | 125 | 16 | 7 | 144.80 | Sri Lanka |
| 6 | David Warner | Australia | 178 | 133 | 19 | 5 | 133.83 | Afghanistan |
| 7 | Kapil Dev | India | 175 | 138 | 16 | 6 | 126.81 | Zimbabwe |
| 8 | Virender Sehwag | India | 175 | 140 | 14 | 5 | 125.00 | Bangladesh |
| 9 | Craig Wishart | Zimbabwe | 172 | 151 | 18 | 3 | 113.91 | Namibia |
| 10 | Glenn Turner | New Zealand | 171 | 201 | 16 | 2 | 85.07 | East Africa |