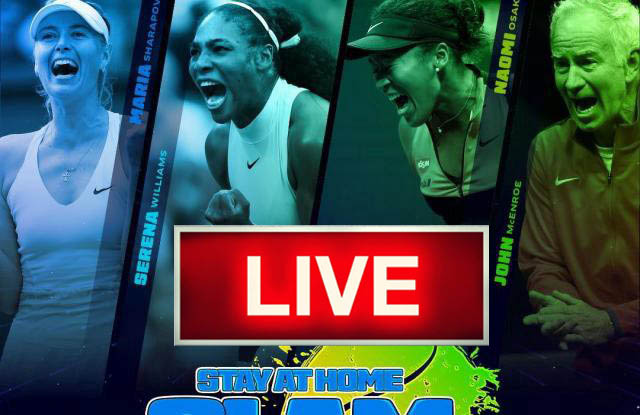 All the Tennis fans around the world Looking to Watch Virtual All Star Tennis tournament "Stay at Home Slam" live facebook stream online.
All the Major tennis Tournament likes of French Open, US Open, Wimbledon either to be postponed or its been rescheduled until the US Open in August because of the current Covid-19 Pandemic around the world but Tennis fans have great news can enjoy a grand slam with a difference with the weekend.
Virtual All-Star Tennis Tournament "Stay At Home Slam" To be live online via various Way on Facebook, Reddit stream as well video platform. All the USA, UK, Australia, France, Canada, India and Around the world of Tennis fans can enjoy this Facebook Gaming virtual All Star Tennis competition live stream online below ways.
Facebook Gaming to Host Virtual Tennis Tournament #StayAtHomeSlam which Featuring some of the star tennis players Serena Williams, Naomi Osaka, Others.
Leading tennis players like Serena Williams, Maria Sharapova, and Kei Nishikori will compete in Mario Tennis Aces game to win $1 million (roughly Rs. 7.5 crores) for charity donation. The virtual all-star tennis tournament will be live-streamed on Facebook Gaming on May 3 at 1 pm PT (May 4, 1:30 am IST time in india).
Sunday's Stay at Home Slam starts at 9pm British Summer Time (4pm ET / 1pm PT) and will be streamed exclusively on Facebook Gaming and IMG's tennis Facebook page. It will be not telecast on channel but facebook will be shown the action live to see online click on below link.
Facebook Gaming made the announcement in a tweet saying, "The biggest names in tennis are grabbing their virtual rackets for the #StayAtHomeSlam, live on Facebook Gaming this Sunday (May 3), in partnership with @IMGTennis. Watch tennis legends like Venus & Serena Williams compete in Mario Tennis Aces for a $1M charity donation!"
The pairs competing include Serena Williams and Gigi Hadid, Maria Sharapova and Karlie Kloss, Venus Williams and Deandre Hopkins, Naomi Osaka and Hailey Bieber, Kei Nishikori and Steve Aoki, Madison Keys and Seal, Kevin Anderson and Ryan Tannehill, Taylor Fritz and Addison Rae.