Tokyo Olympics 2021 Women's Football Schedule, Match Fixtures & Time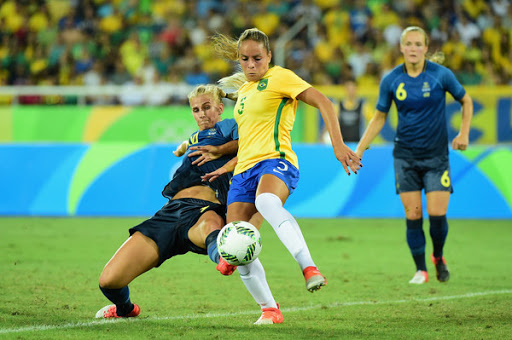 Upcoming Tokyo 2020 which is also known as Summer Olympics 2021 is just few days away to begin. Tokyo Olympics Competition which to be rescheduled after covid-pandemic to this year. Here on this article we talk about Tokyo Olympics Women's Football Events Schedule & Match Fixtures.
Women's Olympic soccer groups 
Group E: Japan, Canada, Great Britain, Chile
Group F: China PR, Brazil, Zambia, Netherlands
Group G: Sweden, USA, Australia, New Zealand
If we look at the Group wise team then United States ladies football team is gathering in the Death of Group G Where they face to Australia, New Zealand and Sweden Women's football team in olympics 2020.
2016 Rio olympics Gold Medalist Germany neglecting to qualify through their mid 2019 world cup exit. In the Group E Contain Great Britain, Chile, Japan and Canada while Brazil go to Group F along with China, Zambia and Netherlands.
Check out below the Day by Day Tokyo Olympics Women's Football Events Schedule & Fixtures with ET Time.
Group stage
| DATE | ROUND | MATCHUP | TIME (ET) | TV | VENUE |
| --- | --- | --- | --- | --- | --- |
| Wed., July 21 | Group E | Great Britain vs. Chile | 3:30 a.m. | TBD | Sapporo |
| Wed., July 21 | Group F | China PR vs. Brazil | 4 a.m. | TBD | Miyagi |
| Wed., July 21 | Group G | Sweden vs. United States | 4:30 a.m. | TBD | Tokyo |
| Wed., July 21 | Group E | Japan vs. Canada | 6:30 a.m. | TBD | Sapporo |
| Wed., July 21 | Group F | Zambia vs. Netherlands | 7 a.m. | TBD | Miyagi |
| Wed., July 21 | Group G | Australia vs. New Zealand | 7:30 a.m. | TBD | Tokyo |
| DATE | ROUND | MATCHUP | TIME (ET) | TV | VENUE |
| --- | --- | --- | --- | --- | --- |
| Sat., July 24 | Group E | Chile vs. Canada | 3:30 a.m. | TBD | Sapporo |
| Sat., July 24 | Group F | China PR vs. Zambia | 4 a.m. | TBD | Miyagi |
| Sat., July 24 | Group G | Sweden vs. Australia | 4:30 a.m. | TBD | Saitama |
| Sat., July 24 | Group E | Japan vs. Great Britain | 6:30 a.m. | TBD | Sapporo |
| Sat., July 24 | Group F | Netherlands vs. Brazil | 7 a.m. | TBD | Miyagi |
| Sat., July 24 | Group G | New Zealand vs. United States | 7:30 a.m. | TBD | Saitama |
| DATE | ROUND | MATCHUP | TIME (ET) | TV | VENUE |
| --- | --- | --- | --- | --- | --- |
| Tue., July 27 | Group G | United States vs. Australia | 4 a.m. | TBD | Kashima |
| Tue., July 27 | Group G | New Zealand vs. Sweden | 4 a.m. | TBD | Miyagi |
| Tue., July 27 | Group E | Chile vs. Japan | 7 a.m. | TBD | Miyagi |
| Tue., July 27 | Group E | Canada vs. Great Britain | 7 a.m. | TBD | Kashima |
| Tue., July 27 | Group F | Netherlands vs. China PR | 7:30 a.m. | TBD | Yokohama |
| Tue., July 27 | Group F | Brazil vs. Zambia | 7:30 a.m. | TBD | Saitama |
Quarterfinals
| DATE | ROUND | MATCHUP | TIME (ET) | TV | VENUE |
| --- | --- | --- | --- | --- | --- |
| Fri., July 30 | Quarterfinals | 2E vs. 2F | 4 a.m. | TBD | Miyagi |
| Fri., July 30 | Quarterfinals | 1E vs. 3FG | 5 a.m. | TBD | Kashima |
| Fri., July 30 | Quarterfinals | 1G vs. 3EF | 6 a.m. | TBD | Saitama |
| Fri., July 30 | Quarterfinals | 1F vs. 2G | 7 a.m. | TBD | Yokohama |
Semifinals
| DATE | ROUND | MATCHUP | TIME (ET) | TV | VENUE |
| --- | --- | --- | --- | --- | --- |
| Mon., Aug. 2 | Semifinals | 1F/2G vs. 2E/2F | 4 a.m. | TBD | Kashima |
| Mon., Aug. 2 | Semifinals | 1E/3FG vs. 1G/3EF | 7 a.m. | TBD | Yokohama |
Bronze medal match
| DATE | ROUND | MATCHUP | TIME (ET) | TV | VENUE |
| --- | --- | --- | --- | --- | --- |
| Thurs., Aug. 5 | Bronze | TBD vs. TBD | 4 a.m. | TBD | Kashima |
Gold medal match
| DATE | ROUND | MATCHUP | TIME (ET) | TV | VENUE |
| --- | --- | --- | --- | --- | --- |
| Thurs., Aug. 5 | Gold | TBD vs. TBD | 10 p.m. | TBD | Tokyo |